HIGH PERFORMANCE CRYOTHERAPY CHAMBER
THE EXCLUSIVE ENTRY
Buy a cryotherapy chamber
Art of Cryo: The future of whole body cryotherapy

Our electrical high performance cryotherapy chambers achieve real room temperatures of -75°C, -85°C or -110°C. All products are TÜV-certified. 
The purchase of a cryotherapy chamber starts with the conception, the development of a business model or the addition to an already existing business. We will gladly support you in the execution of your cryo chamber project with our selection of models and over 30 years of experience:  
We connect you with our leasing partners.
On request, we will visit you and help you with planning the perfect location.
We advise you regarding the integration of your cryotherapy chamber into your premises.
You can have access to our online marketing tools before opening, so we can guarantee you the best possible start into cryotherapy.
30 years of technical know-how. Designed & Manufactured by Art of Cryo motherhouse L&R-Kaeltetechnik.
Made in Germany.
Art of Cryo: Vaultz cryotherapy chamber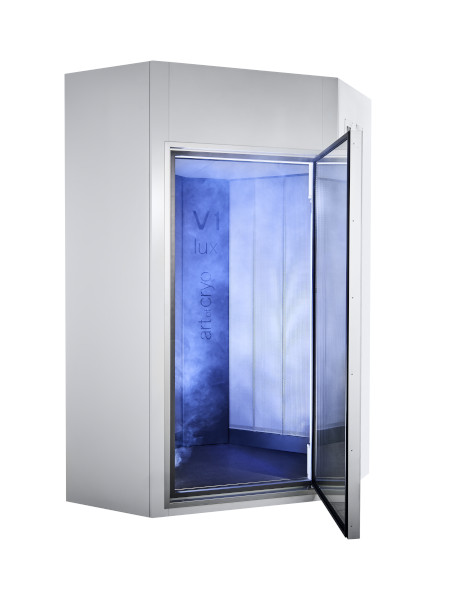 You will find our high performance cryotherapy chambers in luxury hotels, cryo chamber centers, in beauty and cosmetic institutes, in clinics, doctor's offices and many more. Our powerful refrigeration units guarantee stable sub-zero temperatures for use in the application areas health, sport, wellness and beauty, and lifestyle.
The benefits of real cryotherapy range from pain reduction to brightening the skin, improving mood, concentration and even performance. With our electrical cryo chamber you can offer the best to your customers and patients.
With our unique application software and app, every customer and patient receive their individual perfect application time and repetition.
Meaningful sub-zero temperatures always refer to the temperature in the application room.
Contact us for more information about our cryo chambers and their benefits.
Buy a cryotherapy chamber – all from one source

Art of Cryo is a part of L&R Kaeltetechnik GmbH / Co.KG with over 30 years of cold experience, sitting in Sundern (NRW), Germany. Transparency is our number one priority as a long-standing family business. That's why you can always book an appointment and have a tour of our production facility. We look forward to your visit!
Optimal start into the world of cryotherapy
Art of Cryo would like to make your start in the world of cryotherapy as pleasant and successful as possible. This already starts with the planning. At your request, we will visit you on site and plan the best location for your high-performance cryotherapy chamber.
Even before we open, we provide you with our online marketing tools to help you get started in the best way possible. 
With our Whole Body Cryo Expert training, you will also be well informed about the benefits of cryotherapy, as well as contraindications. This will enable you and your staff to advise and inform clients.
Our application software and app for optimal cryotherapy
Our unique application software and app can ensure optimal, effective and safe cryotherapy.  
The app uses data such as weight, height, skin type, treatment goals and much more to calculate the individual application time and application repetition for each client and patient.
It also enables the tracking of vital data. In this way, the positive effects of cryotherapy become clear for your clients and patients.
Art of Cryo – highest quality from the world market leader in the construction of high-performance cryotherapy chambers
All technical units of Art of Cryo's high-performance cryotherapy chambers are developed and produced in Germany. Even the programming of the control system is done in the production facility in Sundern.
Our temperatures are not just numbers on a display, we guarantee real and stable minus temperatures in the application room even after many applications a day.
And it is not only in the technology that you experience the highest quality – the high-quality stainless steel design by Antonio Capristo also radiates elegance and quality.