ELECTRICAL CRYO CHAMBER
THE EXCLUSIVE ENTRY
Electrical cryo chambers by Art of Cryo
The future of whole body cryo therapy

In the development and research department by Art of Cryo and L&R Kältetechnik we realized the potential of electrical whole body cryotherapy more than 25 years ago. Especially in medical application in hospitals and spa clinics only electrical cryo chambers are used.
Benefits of a electrical cryo chamber by Art of Cryo:
Low operating cost per application
Real whole body cryo therapy
Stable temperatures across the whole body
Medical use in clinics possible
30 years of technical Know-how. Designed & Manufactured by Art of Cryo motherhouse L&R-Kältetechnik.

Made in Germany.
Electrical cryo chamber: Vaultz V1 LUX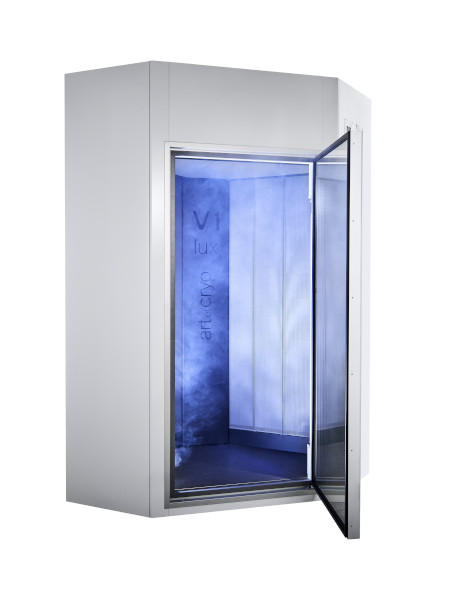 All high performance cryo chambers models by Art of Cryo: single Vaultz V1 and V1Lux, vario Vaultz V2 and V3 and Unical-Vaultz Vaultz are already designed for the future of cryo therapy.
Electrical cryo chambers by Art of Cryo – Benefits: 
Low power consumption

Cryo chamber cell –  5 years of Guarantee

Own training, research and cryo chamber center
Unique steel design by Capristo
Electrical cryo chamber – 100% Made in Germany
Application and Software for cryo therapy
Free online marketing package
We'll gladly provide more information on request – let us advise you.
No worries package – for your electrical cryo chamber.

Development, production, construction, installation and service of your electrical cryo chamber come from one professional hand. We at Art of Cryo support you with your concept and planning. The execution of special requests, especially in the unical Vaultz line are one of our key competences.