ART OF CRYO
A STORY OF SUCCESS
Art of Cryo: cryotherapy chamber manufacturer
The future of whole body cryotherapy

You are looking for a cryotherapy chamber manufacturer who can look back on 30 years of experience? Who has the know-how to develop and produce high performance cryo chambers? Then Art of Cryo is who you are looking for. The electrical high performance cryo chambers by Art of Cryo achieve real room temperatures of -75°C, -85°C or -110°C.
With our own research center in Cologne, Germany, we test and develop equipment for cryotherapy and possible combination therapies.
Art of Cryo offers three product lines for different needs. Our one-room chambers single Vaultz are space-saving and adaptable. Our two- and three-room solutions vario Vaultz can be used by multiple people at once. For your more specific needs we have our unical Vaultz solutions – custom made solutions to fit your individual needs.
30 years of technical know-how. Designed & Manufactured by Art of Cryo motherhouse L&R-Kaeltetechnik.
Made in Germany.
Benefits of an electrical cryotherapy chamber by Art of Cryo at one glance:
Three product lines for different expectations
Real sub-zero temperatures
Noble and appealing design
Worldwide delivery & own service
All cryo chambers are TÜV-certified
100% Made in Germany
Our own cryo chamber research center
Our own cryo chamber application software
Cryo Operator & Medical Cryo Operator training course
Art of Cryo the cryotherapy chamber manufacturer
Vaultz V1 LUX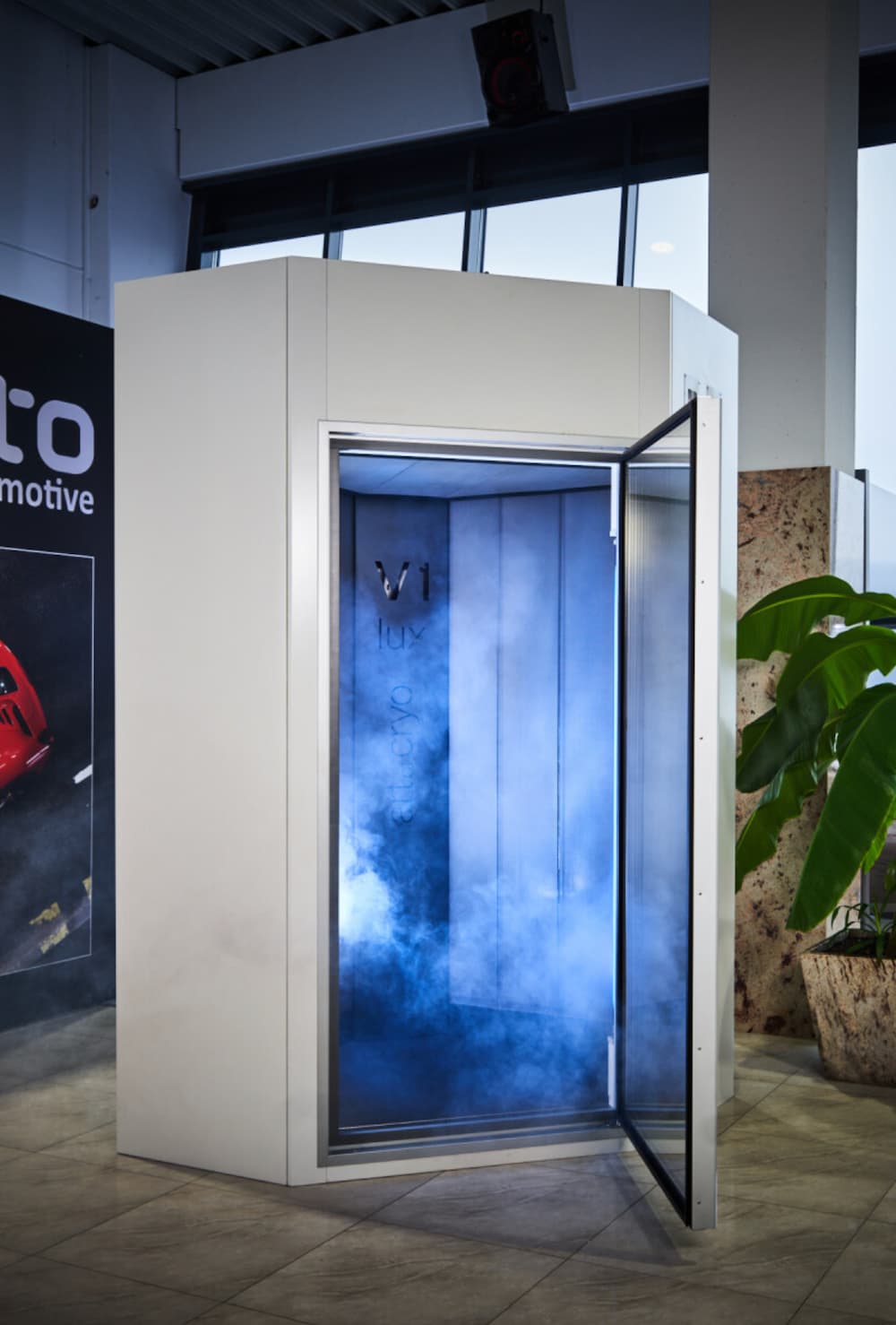 The one room high performance cryotherapy chamber was build with noble design inside and out, and was developed for the future of cryo therapy.
High performance cryotherapy chambers by Art of Cryo:
single Vaultz: V1 und V1 lux:
Our one-room solutions. The perfect entry-level model. Space-saving and efficient.
vario Vaultz: V2 und V3:
Our two- and three-room solutions. Through the ante-rooms no humidity enters the main treatment room.
unical Vaultz
Special solutions for individual needs.
We as manufacturer of high performance cryotherapy chambers guarantee stable and true sub-zero temperatures. Through our own worldwide service we can guarantee a disturbance-free operation of our cryo chambers.
With our unique application software and app, the perfect application time and repetition will be calculated for your customers and patients.
Many more benefits and detailed information will be provided for you on inquiry – Contact us and let us advise you.
Art of Cryo – cryotherapy chamber manufacturer:
More than Cold!

30 years of experience as well as a complex and strategic alignment in the development of high performance cryo chambers made it possible for us to further our head start in the development of cryo chambers.
We focus on the future in the development and production of our cryotherapy chamber models. Our high performance cryo chambers are always on the latest technological stand. Continuous innovations and improvements are our philosophy. For this reason, Art of Cryo also researches the possibilities of combination therapies. The temperatures inside our chambers are always real and stable – whether you have a -75°C, -85°C or even a -110°C model.
We can do cold. Contact us for a company tour and convince yourself!
Cryo chamber manufacturer – Over 25 years of experience
Art of Cryo is a division of L&R Kältetechnik GmbH und Co.KG with over 25 years of experience in building cryo chambers for medical use in a wide variety of healthcare settings worldwide.  
Art of Cryo cryotherapy systems can be found in doctors' offices, therapeutic practices, spa clinics and in pain centres.
The management of competitive sports centres rely on the many years of experience of Art of Cryo – L&R Kältetechnik for the regeneration and accompanying treatment of sports injuries.  
In the field of New Health and Beauty Health applications, too, specialists rely on genuine cryotherapy at stable ultra-low temperatures during the entire application time, so that our cryo chambers can guarantee an optimal and effective cold application.
The cryo chamber of the future
As a cryo chamber manufacturer for real high-performance cryo chambers, we are already looking a decade into the future for you in our test and research centres. With our new developments, we ensure investment security and competitiveness compared to your future market competitors.
Through our further developments of the various combination therapy modules and the technical preparations of the current cryo chamber models, it is possible for us as a cryo chamber manufacturer to provide you with the latest state of the art and innovative extensions even after several years.
With a high-performance cryo chamber from Art of Cryo, you can offer your customers the future of cryotherapy today.
Cryo chamber test and research centre
Art of Cryo is the only cryo chamber manufacturer in the world with genuine cryotherapy research centres in Cologne, Zurich and, from late summer, in Sundern, right next to the head office. In the own research facilities, the cold chambers are not only exposed to extreme stress situations and put through their paces in continuous use, but application observations in the field of cryotherapy are also carried out in order to constantly optimise the use of cold therapy.
Own production – production site in Germany
As a highly specialised company with a development and research department in the field of refrigeration technology and high-performance cryo chamber construction, we manufacture all technical units, right up to the construction of the electrical cabinet, ourselves in our own production facilities. Even the programming of the control system takes place in Sundern.
We will continue to produce exclusively in Germany in order to be able to guarantee our customers worldwide the highest quality standards and technical reliability for decades to come.
We cordially invite you to visit our production halls in Sundern and experience the production of a real high-performance cryo chamber at first hand.
In our research centre, which is located directly next to the production halls, you will be able to experience all cryo chamber models and combination therapy modules in real use from September onwards. To make an appointment to visit our research centre or our production facilities, please feel free to use our contact form.